Yesterday, Flag Day, members of the Inland Empire Council and others were privileged to be among those attending a training evolution and demonstration of the Marine Air-Ground Task Force (MAGTF) concept. It took place on "the beach" at Camp Pendleton.
The event was part of Camp Pendleton's celebration this year of its 75th anniversary and members of the community were invited to watch and learn more about the Marines and the base. Inland Empire Council received very short notice of the event and it was only possible for a few members to attend. With the impending merger of Tri-City and Inland Empire councils, it is the intention of the council-to-be to expand the range of such activities and access of members to them.
In simple terms, MAGTF involves Navy and Marine forces — air, ground, and sea — in a coordinated amphibious operation. Navy ships bring materiel and personnel to the area, land Marines and their equipment and supplies, supported by Navy and Marine aircraft.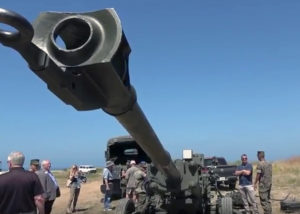 The event was much less whiz-bang than similar demonstrations at the annual MCAS Miramar airshow, but the scale and kinds of equipment were quite different. The Camp Pendleton evolution involved Navy ships, amphibious craft, and an actual amphibious landing on an awesome stretch of sand and waves.
Here's a video (7:00) of highlights.